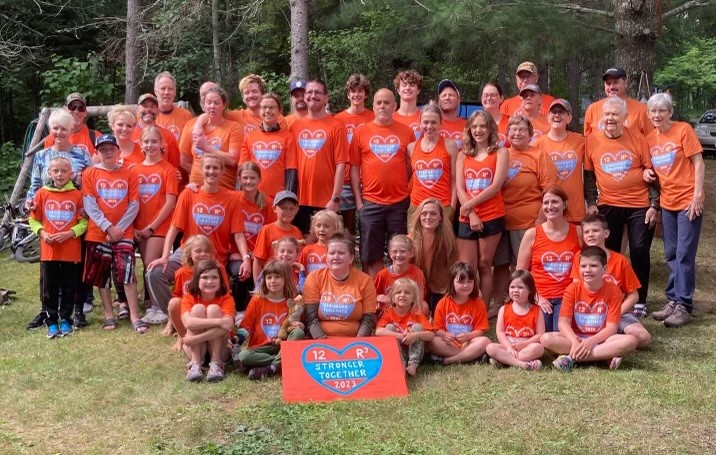 Even as several family members of their own deal with cancer, the Wayne (& Donna) Hysjulien of Hibbing family continues to give and give and give.
The family held their 12th annual R-Cubed Triathlon in mid-July on Burnt Shanty Lake. They swam, biked and ran their hearts out while raising another generous $6,600 for Angel Fund.
R-Cubed is a commemoration of Roxane "Roxie" DeMillo — beloved wife, daughter of Donna and Wayne, mother, sister, aunt, teacher and friend who succumbed to a 10-year battle with cancer on April 11, 2007. Jamie Hysjulien, son of Donna and Wayne, passed away on April 21, 2019, often participated in R-Cubed. Mark DeMillo, Roxie's widow and Hibbing musician, passed away from stomach cancer on Aug. 1, 2016.
The Hysjuliens support Angel Fund to honor the trio and because the monies stay local and go directly to patients. Angel Fund provides financial assistance to Northeastern Minnesota residents diagnosed with cancer who are dealing with treatment.
"We know cancer is not unique to our family, but this year we have once again been impacted significantly by cancer," said Holly Hysjulien. "And in the midst of this, we continue to try to make a small difference in the world by raising money for the Angel Fund."
This year the Hysjulien family was impacted by leukemia, esophageal and prostate cancer.
"And we know we are not alone," added Holly. "Cancer impacts so many families each and every day, and this is one way to give to those impacted. Every little bit counts. We are stronger together."
Angel Fund is simply better with the Hysjulien family.
"As their theme for this year states, we're 'stronger together' – there are no truer words,'" said Angel Fund Executive Director Kelly Grinsteinner. "This family is unstoppable when it comes to love, support and simply being gracious human beings. We remain thankful and humbled by their efforts. We are forever grateful."
The family's donations to Angel Fund to date total more than $85,000.
To apply for assistance, donate or learn more about Angel Fund, log on to angelfundrange.org or find us on Facebook. Donations are also accepted at hysjulien.com.