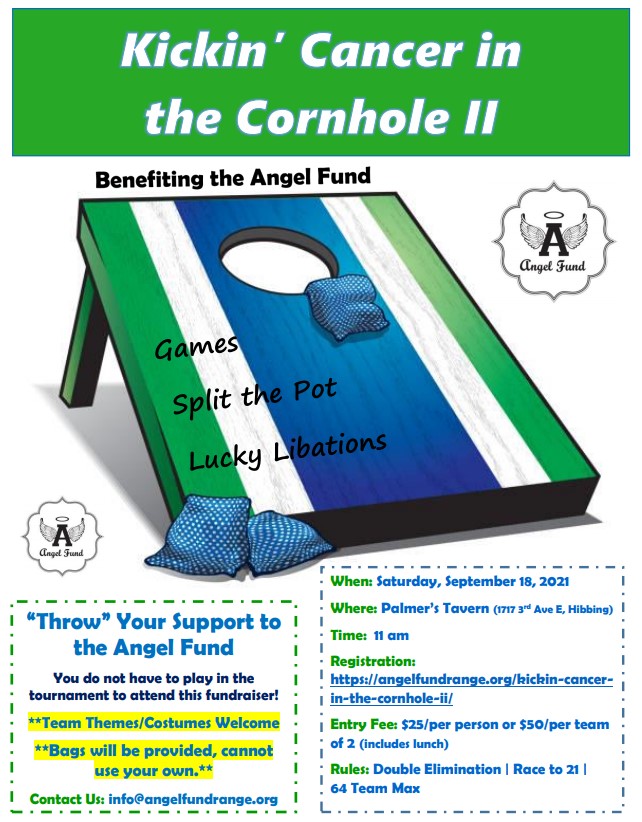 Kickin' Cancer in the Cornhole is back!
The one-day fundraiser returns for its second year on Saturday, Sept. 18, at Palmer's Tavern in Hibbing.
"We are ecstatic about hosting this event once again," said Angel Fund President Kelly Grinsteinner. "We pulled this together in such a short amount of time last year. Everyone simply had a blast. We raised a substantial amount of funds for local cancer patients. We're putting more time into planning this year. We can't guarantee it will snow like it did last year, but we promise to put the fun in fundraising."
Games of double elimination will begin at 11 a.m. Entry fee is $50 per team and includes lunch.
Register below by midnight Sept. 16. Up to 64 teams. No same day registration. No refunds.
Must play with bags provided at the event. Scoring is race to 21.
Payouts will be $500, $300 and $100. Fun team names, themes and costumes are encouraged.
All are invited to stop in for a beverage, a meal and raffles. You do not have to play in the competition to attend.
Games will include Split the Pot, Lucky Libations and raffle board, among others.
For questions, message us on Facebook or email info@angelfundrange.org.