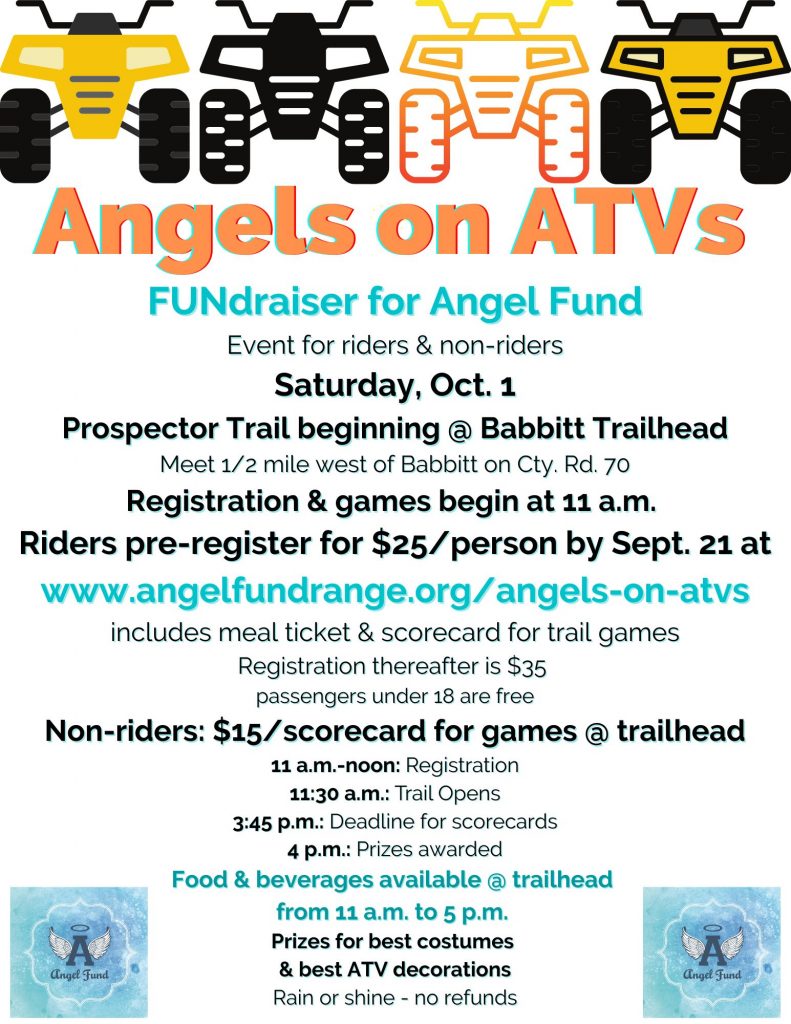 Angel Fund will host the inaugural Angels on ATVs trail ride for riders and non-riders on Oct. 1, starting on the Prospector Trailhead near Babbitt.
The one-day event will feature a fun ride, games on the trail, games at the trailhead, and food. The trailhead is located on County Road 70, approximately ½ mile west of Babbitt. Funds raised during Angels on ATVs will provide financial assistance to NE Minnesota residents battling cancer.
Riders: jump on your ATV for a scenic ride, hopefully with gorgeous fall colors on display. Plan to hit the trail between 11:30 a.m. and 12:15 p.m.
Be sure to grab your scorecard before you head out, as you'll have the chance to test your skills at games along the trail. This scorecard is included with registration.
Registration is $35 below and day of. A meal ticket is included. REGISTER BELOW!
For those who prefer to keep their feet on the ground, games will also be conducted at the trailhead. Games here begin at 11 a.m. (so riders can participate too) and wrap up at 3:30 p.m. Scorecards are available for $15 per card.
Games throughout the day will include yard darts, frisbee throw, ladder ball, bocce ball roll, bean bag toss and more.
We encourage attendees to come in costume and decorate your ride. Prizes are given for each.
Food and beverage will be available at the trailhead from 11 a.m. to 5 p.m.
The day's schedule:
11 a.m. – noon: Registration
11:30 a.m.: Trail opens
3:45 p.m.: Deadline for scorecards
4 p.m.: Prizes awarded
The ride is on – rain or shine. No refunds will be given. Persons under 18 ride for free and must be accompanied by an adult.
Anticipate signing a waiver & release form at registration the day of the ride. Participants must also "understand and agree to follow the MN DNR rules and regulations for operating an off-highway vehicle on public trails (this includes any minors under my care for this event)."
Register