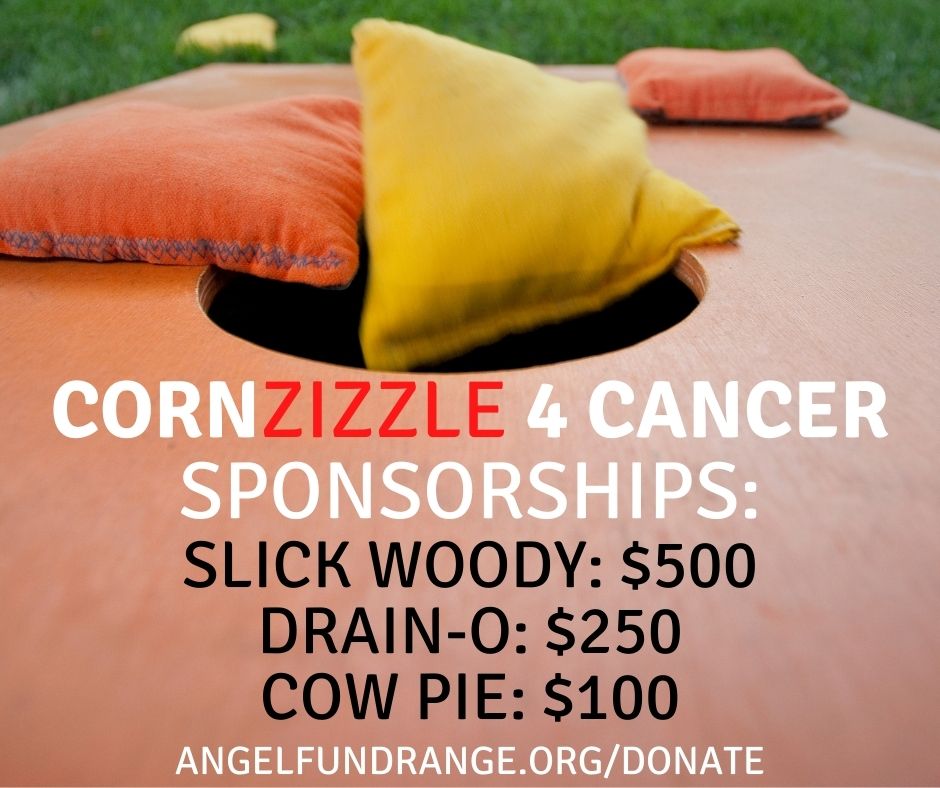 Dear Supporter:
Ever hear of a Cornzizzle? It's a cornhole term meaning a single player sinks all four bags in the hole in a single round. The term was new to us too, but we like it so much that we've adopted it for our next fundraiser
Angel Fund will conduct its inaugural "Cornzizzle 4 Cancer" on Saturday, June 4, at BGs Bar & Grill in Mountain Iron. The one-day competition will directly benefit area cancer patients and mark our first official fundraiser on the East Range.
Angel Fund is a nonprofit committed to providing financial assistance to Northeastern Minnesota residents facing cancer for expenses not covered by medical insurance. In 2021, we helped 163 area individuals, gifting almost $70,000 primarily by providing gas money for transportation to treatment.
Please consider sponsoring Cornzizzle 4 Cancer. Your sponsorship of $500 as a Slick Woody Sponsor; $250 as a Drain-O Sponsor; and $100 as a Cow Pie Sponsor will be recognized at the event and on social media.
Another way to help us make this event a success is by contributing an item for a raffle or purchasing a sign in honor or memory of a cancer patient. Perhaps you'd even consider participating on a team. No matter how you give, your support for Angel Fund is appreciated by those who benefit the most – those who battle cancer.
To sponsor: mail your tax-deductible sponsorship to: Angel Fund, P.O. Box 114, Hibbing, MN 55746 or pay through our website: www.angelfundrange.org/donate. Please note "Cornzizzle" and provide a contact phone number in the payment.
To donate a raffle item or purchase a sign, email us at info@angelfundrange.org or call 218-262-9929.
To register a team, log onto www.angelfundrange.org/cornzizzle-for-cancer.
To learn more about Angel Fund, log on to www.angelfundrange.org or www.facebook.com/angelfundrange.
We look forward to your response by June 1.
Thank you for all you do for others. We hope to have you as part of CORNZIZZLE 4 CANCER as a sponsor, contributor, player or attendee.
Sincerely,
The Cornzizzle 4 Cancer Committee: Shannon Petroske, Nicole Freeman, Katie Finch, Kari Kilen, Kelly Grinsteinner, Robin Cicmil, Meghan Hodge, Angela Zavodnik & Amber Bretto