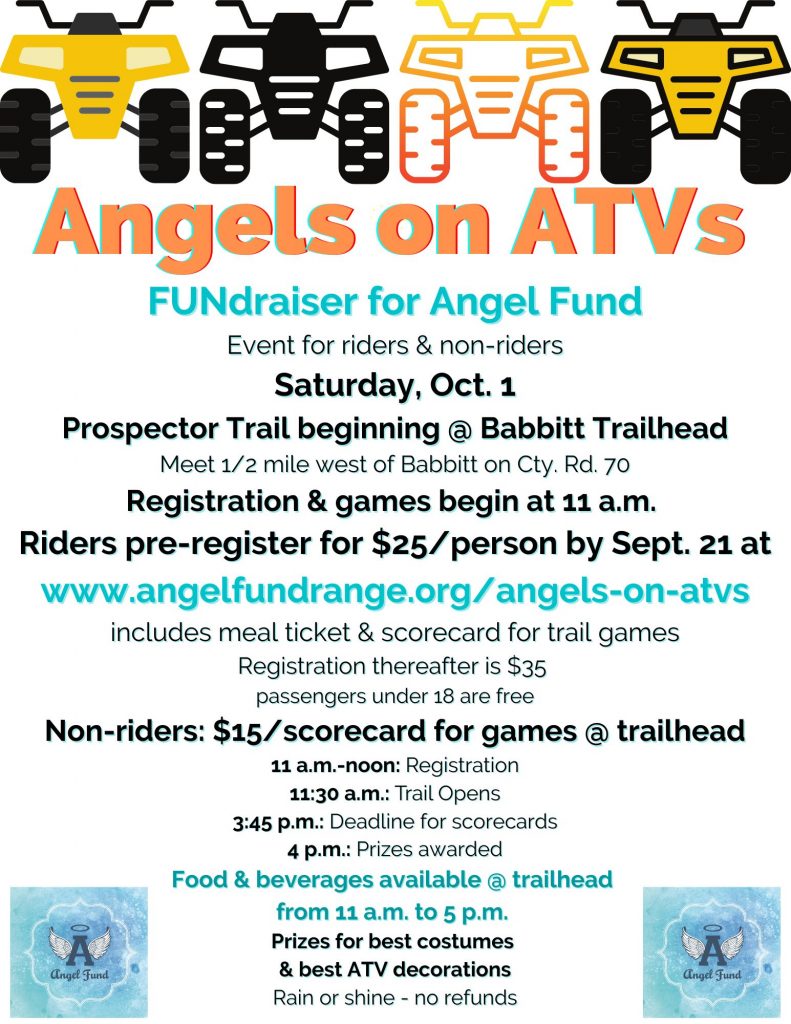 Angel Fund will host the inaugural Angels on ATVs trail ride for riders and non-riders on Oct. 1, starting on the Prospector Trailhead near Babbitt.
The one-day event will feature a fun ride, games on the trail, games at the trailhead, and food. The trailhead is located on County Road 70, approximately ½ mile west of Babbitt. Funds raised during Angels on ATVs will provide financial assistance to NE Minnesota residents battling cancer.
Riders: jump on your ATV for a scenic ride, hopefully with gorgeous fall colors on display. Plan to hit the trail between 11:30 a.m. and 12:15 p.m.
Be sure to grab your scorecard before you head out, as you'll have the chance to test your skills at games along the trail. This scorecard is included with registration.
Registration is $35 below and day of. A meal ticket is included. REGISTER BELOW!
For those who prefer to keep their feet on the ground, games will also be conducted at the trailhead. Games here begin at 11 a.m. (so riders can participate too) and wrap up at 3:30 p.m. Scorecards are available for $15 per card.
Games throughout the day will include yard darts, frisbee throw, ladder ball, bocce ball roll, bean bag toss and more.
We encourage attendees to come in costume and decorate your ride. Prizes are given for each.
Food and beverage will be available at the trailhead from 11 a.m. to 5 p.m.
The day's schedule:
11 a.m. – noon: Registration
11:30 a.m.: Trail opens
3:45 p.m.: Deadline for scorecards
4 p.m.: Prizes awarded
The ride is on – rain or shine. No refunds will be given. Persons under 18 ride for free and must be accompanied by an adult.
Anticipate signing a waiver & release form at registration the day of the ride. Participants must also "understand and agree to follow the MN DNR rules and regulations for operating an off-highway vehicle on public trails (this includes any minors under my care for this event)."
Register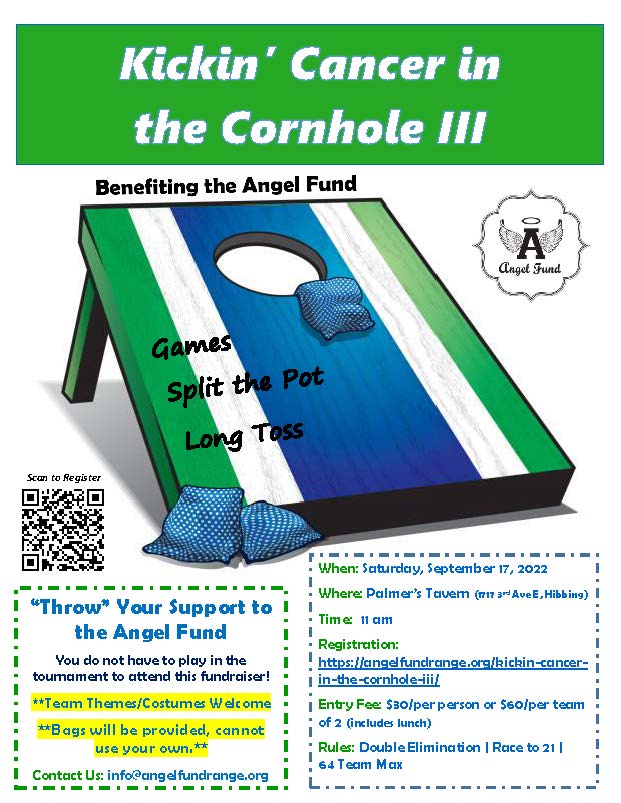 The third time's the charm, right?
Charm – plus skills – may be the key ingredients to taking home the purse of Kickin' Cancer in the Cornhole III.
The one-day fundraiser returns for its third year on Saturday, Sept. 17, at Palmer's Tavern in Hibbing.
Games of double elimination will begin at 11 a.m. Entry fee is $60 per team and includes lunch.
Register below by midnight Sept. 16. Same day registration on site (please arrive early). Up to 64 teams. No refunds.
Must play with bags provided at the event. Scoring is race to 21.
Payouts will be $500, $300 and $100. Fun team names, themes and costumes are encouraged.
All are invited to stop in for a beverage, a meal and raffles. You do not have to play in the competition to attend!
Games will include Split the Pot, Long Toss and raffle board, among others.
For questions, message us on Facebook or email info@angelfundrange.org.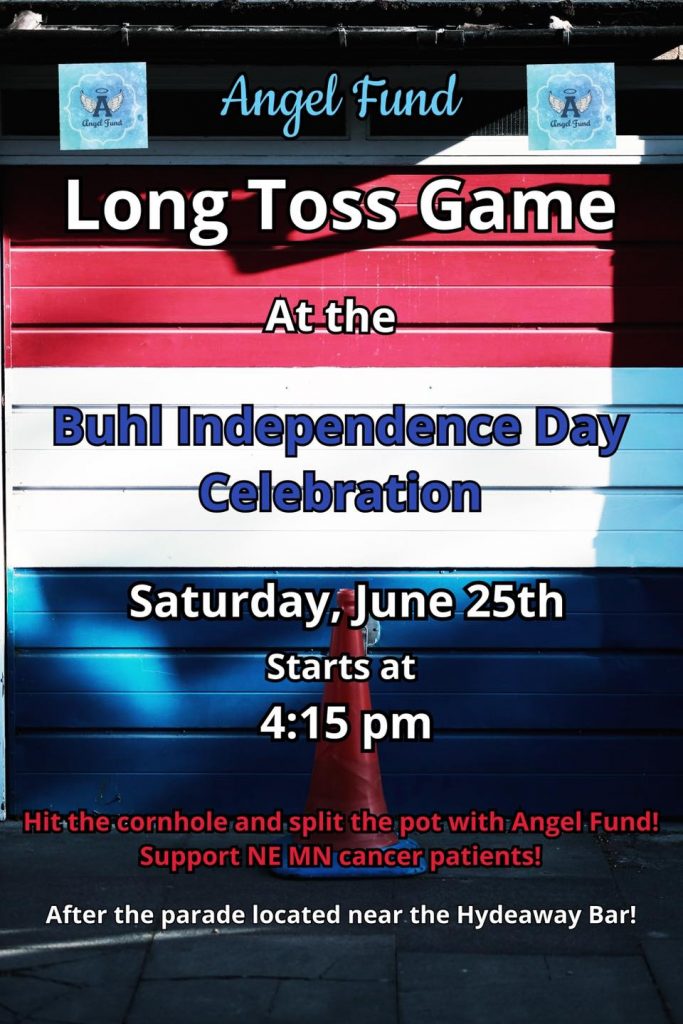 Join Angel Fund at the Buhl Independence Day Celebration on Saturday, June 25th, beginning with a parade at 3 p.m. Angels will be part of the procession, handing out info and candy. Following the parade, Angel Fund will set up a Long Toss competition near The Hydeaway. The fun starts around 4: 15 p.m. Purchase each bag for $1, give it your best and if ya hit the cornhole, you split the pot with Angel Fund. Funds go directly to NE MN cancer patients — so it's a win-win!