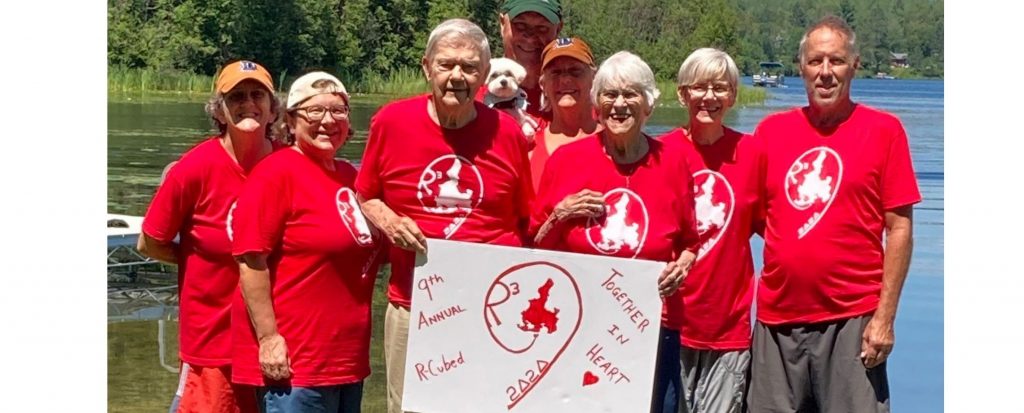 A health pandemic did not stop the Wayne Hysjulien family of Hibbing from holding its ninth annual R-Cubed triathlon in honor of their loved ones lost to cancer.
On July 18, 2020, all across America, family members devised and conducted their own triathlons as they raised monies for Angel Fund.
They swam in a pool in Durham, N.C. They biked around Lake Nokomis in Minneapolis. They ran in Alfred, N.Y. They hiked in the woods in Sandy Creek Park Athens, Ga. They skateboarded in Santa Cruz, Calif.
They waited for the tide to come in on Juniper Beach in Washington. They used a stroller in Dewitt, Mich. The family was also represented in Flagstaff, Ariz., and Summerset and Perch Lake, Wis.
All the while, Donna and Wayne Hysjulien were at their cabin on Burnt Shanty Lake, north of Nashwauk, where the annual Roxie Red Race (R-Cubed) is traditionally held.
Family members were miles and miles apart, but Virtual R-Cubed brought them "together in heart."
"Well, we did it!" exclaimed Holly Hysjulien, daughter of Donna and Wayne. "Quite honestly, for me, it was so cool to see this happen literally coast to coast. I truly feel Roxie, Jamie and Mark would feel so moved by our efforts and desire to make this world a bit more gentle."
R-Cubed is a commemoration of Roxane "Roxie" DeMillo — beloved wife, daughter of Donna and Wayne, mother, sister, aunt, teacher and friend who succumbed to a 10-year battle with cancer on April 11, 2007.
Jamie Hysjulien, son of Donna and Wayne, passed away on April 21, 2019. He often participated in R-Cubed.
Mark DeMillo, Roxie's widow and Hibbing musician, passed away from stomach cancer on Aug. 1, 2016.
In addition to the traditional triathlon, the Rockin' R-Cubed Concert was initially added as a tribute to Mark. This year the coast-to-coast concert was held via Zoom.
"(It's) hard to describe how meaningful it was," Holly said of the concert. "Music! Talk about a defining part of Roxie, Jamie and Mark's lives. It makes my heart happy knowing we are keeping alive such a huge piece of what they gave to us."
The Hysjuliens support Angel Fund to honor the trio and because the monies stay local and go directly to patients. Angel Fund provides financial assistance to Northeastern Minnesota residents diagnosed with cancer who are dealing with treatment.
This year the family raised an amazing $8,725 for Angel Fund, bringing their total efforts to date at more than $63,000.
"Roxie and Jaime, I am sure, are proud of the difference we are making," said Holly.
It feels great to provide a little piece of hope for the people whose lives are impacted by cancer, said Angel Fund President Kelly Grinsteinner. That wouldn't be possible without the ongoing support of the Hysjulien family and other contributors.
"It is their generosity that makes it all happen," she added. "We are thankful and humbled by the Hysjulien family's efforts. Their energy, passion and respect for their past and current loved ones is undeniable and admirable. We are forever grateful."