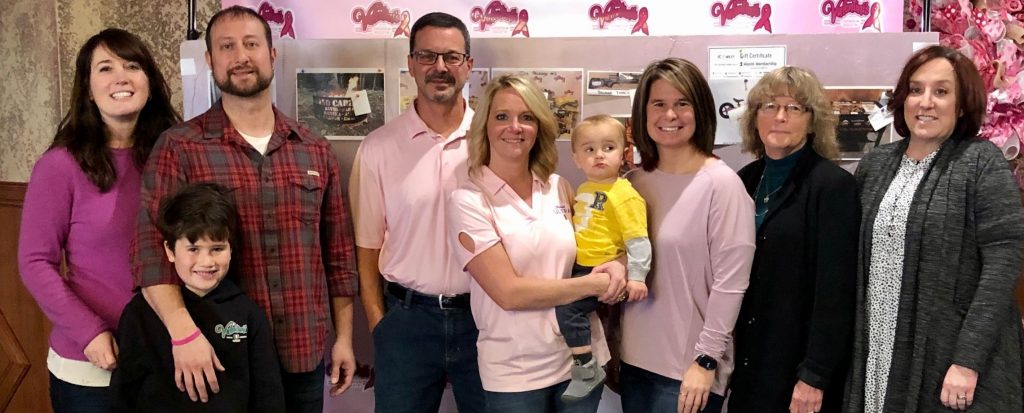 CHISHOLM – Paul Marturano has long said they are two things he will never do.
First thing: wear the color pink.
Second thing: be on Facebook.
But on Oct. 25 – the culmination of Valentini's Pink Days – "never" was tossed out the window.
In a light pink polo while live on Facebook, Marturano exuberantly announced that Pink Days – an effort by he and his wife, Cindy, and their restaurant partners Rob and Jess Russo – had raised an stunning $22,000 for Angel Fund.
"I have no idea how we're going to out do this next year," he added.
During October, Valentini's and Angel Fund Board members sold raffle tickets for several prizes donated by a long list of generous businesses and people. Around 1,100 tickets were sold – a number which sent the restaurant owners returning to Bark Design for additional printing.
In addition to the raffles, the restaurant held three days of food and drinks specials to spread awareness and raise funds for area cancer patients.
This was Valentini's 7th year hosting Pink Day, an event that began as a nod to Carol Marturano when she was battling cancer. It is traditionally a one-day bash in late October at the restaurant.
The couples were considering cancelling this year's event due to social distancing and non-gathering guidelines because of COVID, but instead they got creative and created Pink Days – a celebration over multiple days and one that reached way beyond the restaurant walls. Social media was highly used, and a great drive behind ticket sales.
A big consideration in moving forward was COVID's impact on Angel Fund, which was feeling a substantial loss of revenue due to fundraiser cancellations, Marturano told the Mesabi Tribune.
"They felt the pinch also," he said. "They need funds, this year more."
He was speaking the truth, confirmed Angel Fund President Kelly Grinsteinner. Two of Angel Fund's largest fundraisers, Spring Classic and Girls Night Out, were canceled this year.
"Angel Fund is grateful to Valentini's for its continued support and humbled by the owners' decision to forge ahead with their annual Pink event during these uncertain times. When businesses are struggling and we're lacking revenue due to canceled fundraisers, this Pink event is a Godsend," she said.
While events had been canceled, cancer has not been, Grinsteinner noted.
"Many patients are struggling as much — if not more than — others during this pandemic," she said. "Imagine dealing with the emotions brought on by the threat of COVID in addition to already waging a war with cancer. Patients need the support and financial assistance provided by Angel Fund now more than ever."
The $22,000 will impact many lives and would not have been possible without all who participated – from contributors to ticket-seller and Valentini's staff to dinners. Plus an extra big "thank you" to the Marturanos and Russos who pushed Pink Days through the pandemic.
"Angel Fund is heartened by all who contributed to this great success. We could not do our work without you," said Grinsteinner. "Valentini's generosity and efforts reinforce their commitment to our communities. As they said, "we are stronger together!"