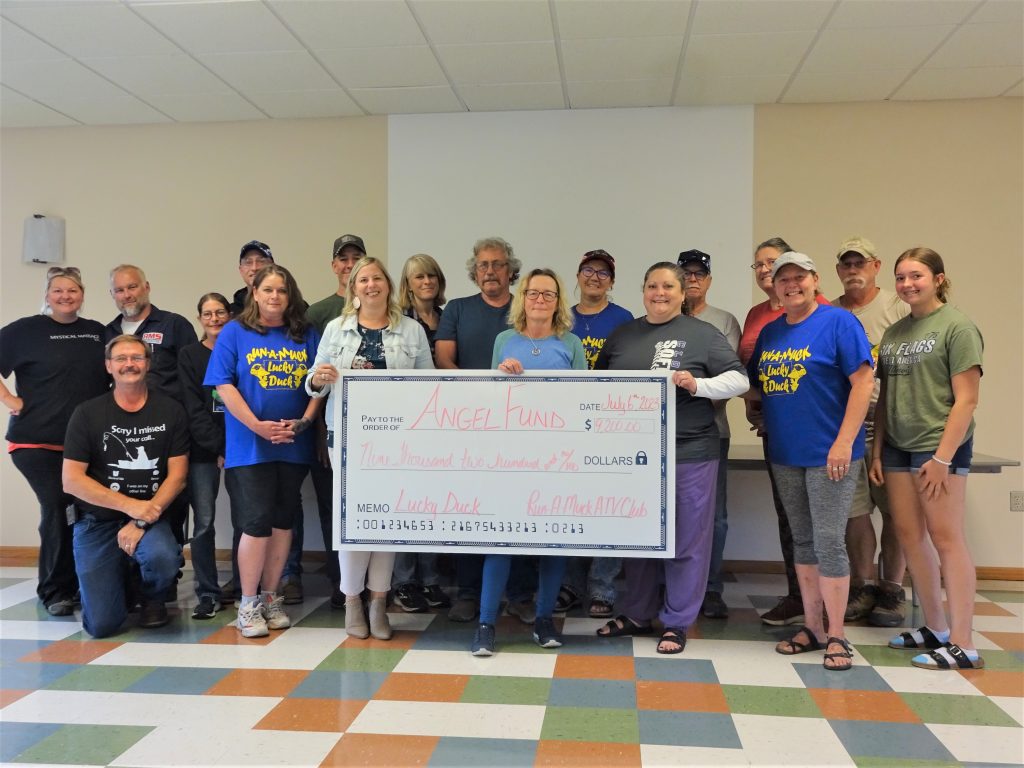 PENGILLY — The small yet mighty Run-A-Muck ATV Club in Pengilly recently presented a check for $9,200 to Angel Fund.
This is a record-breaking amount of proceeds from their third annual Lucky Duck event, and they couldn't be more proud, according to Run-A-Muck ATV Club Secretary Chris Sheff.
Held on June 10th, the event featured an ATV ride and a Duck Chuck competition in which rubber duckies were sent sailing into the air via catapult. The ducks traveling the furthest in each round then moved on to the final rounds.
"It was a very exciting and fun-filled day on the trails in Itasca County," noted Sheff.
The Duck Chuck competition was held at Toivo's Pub in Hibbing. Ray's Sport & Cycle of Grand Rapids also has their retail trailer there.
"Run-A-Muck ATV Club wishes to thank all of their dedicated members, business partners and all of the ATV riders that took part in the Lucky Duck fundraiser to help Angel Fund continue their important work of assisting cancer patients in Northern Minnesota," said Sheff.
Angel Fund members were flattered to be chosen as the Club's charity of choice this year. A few board members who joined the club for the Lucky Duck were thoroughly impressed with the organization of the event and how much fun was had.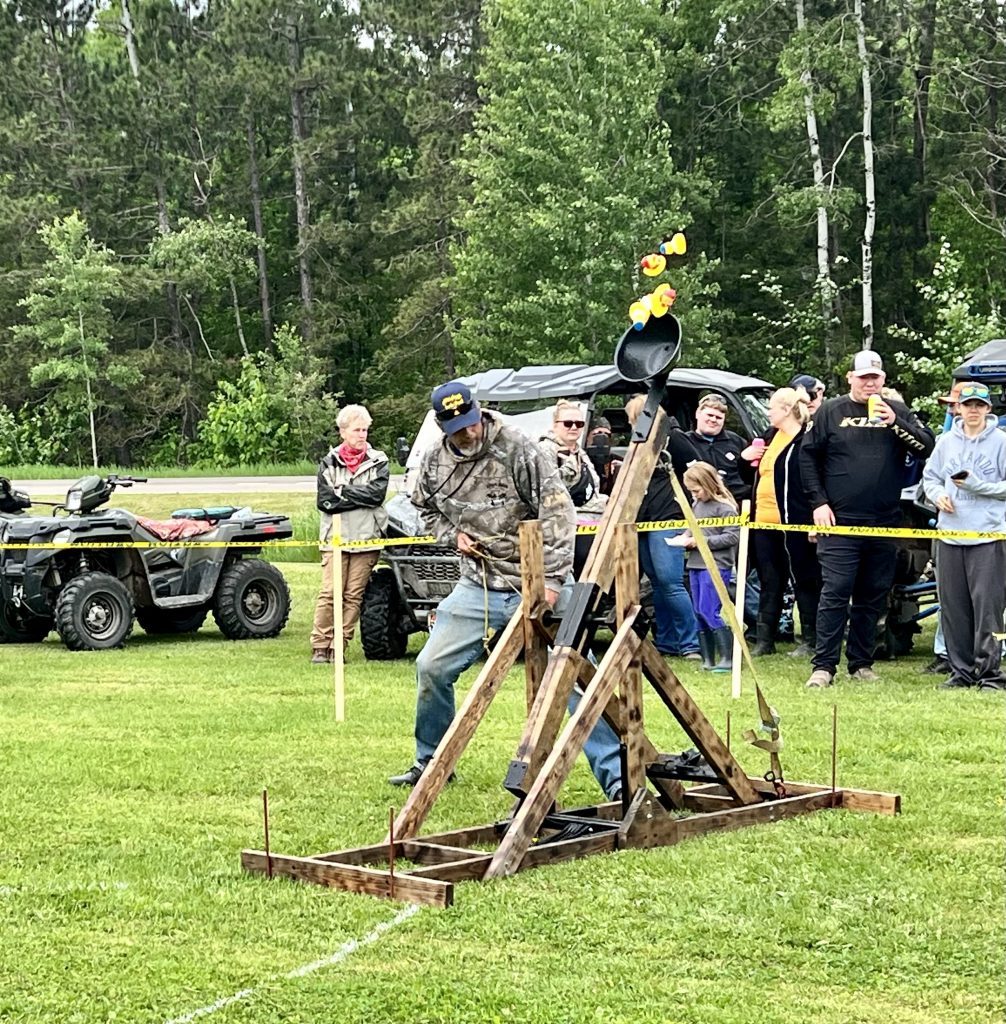 "To see the ducks fly was a hoot, and that catapult was quite the contraption!" said Kelly Grinsteinner, Angel Fund executive director. "Seeing it in action brought a lot of laughter, smiles and cheering. Being in a feel-good atmosphere is so welcome when focusing on cancer."
ATVS decked-out with hearts and colorful ribbons and hearing the personal stories from survivors, those currently battling and those we've lost to cancer added a sense of bitter sweetness to the day.
"Angel Fund would like to thank the Run-a-Muck club for their donation," said Board President Shannon Petroske. "We're grateful for their support and generosity, as it will help us continue to provide financial assistance and hope to cancer patients residing in northeast Minnesota."
The generous donation also comes at a key time as Angel Fund is experiencing a record-setting number of requests for the first half of a year. To date, more than $62,000 has been gifted to 134 people this year.
"This volume of requests far exceeds a typical year for the fund, and we're now bracing ourselves to cross the $100,000 in gifts threshold," said Kelly Grinsteinner. "This tells us that the number of cancer diagnoses is rising, more people have returned to doctoring post-COVID and that more are aware of the Fund."
The Angel Fund Board of Directors recently approved expanding its gifting parameters to allow for a third gift per patient. This means that those facing cancer can now tap the fund up to three times during their treatment.
To apply, donate or learn more about Angel Fund, log on to angelfundrange.org or facebook.com/angelfundrange. A list of upcoming fundraisers can also located there, including the inaugural Putting Fore Patients mini golf night on Monday, July 24, at Greens on Foreteenth in Virginia.
For more info on the Run-a-Muck ATV Club, see runamuckatv.wixsite.com. The Club is now gearing up for its third annual Fall Fest on Saturday, Sept. 9. The ATV ride is a Dart Poker Run, raising funds to build trails to connect to neighboring towns on the Range. The current trail being designed will connect Pengilly to Calumet and then to Marble. See facebook.com/runamuckatv for details and sponsorship opportunities.