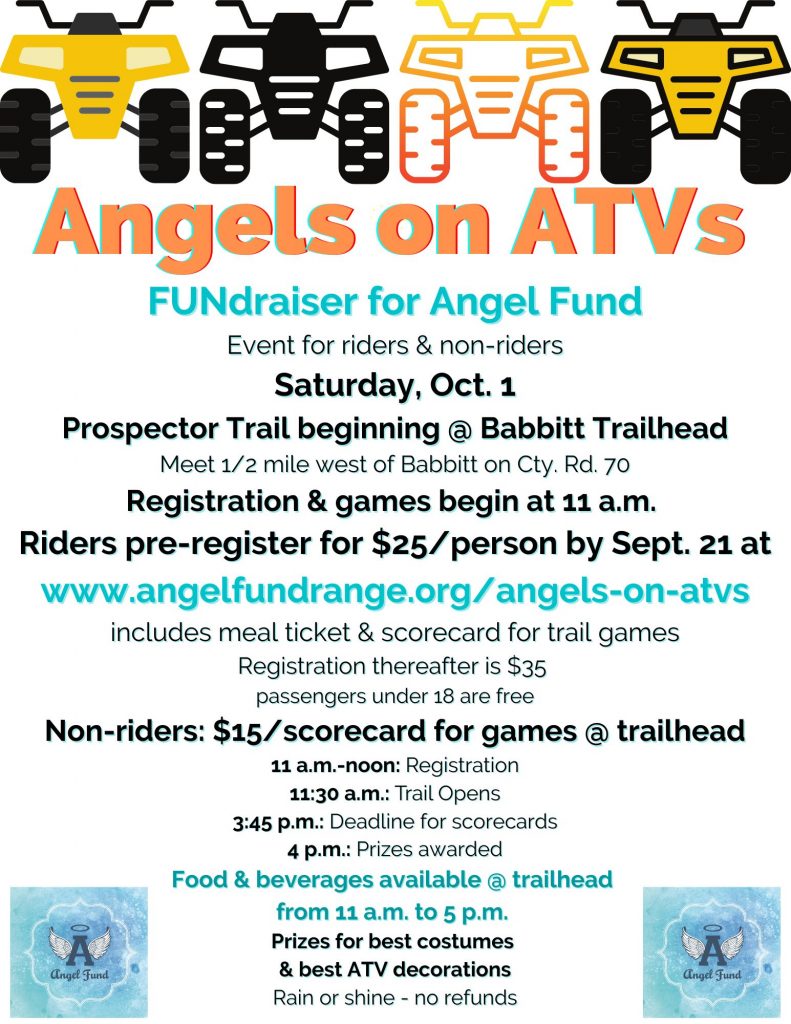 Angel Fund will host the inaugural Angels on ATVs trail ride for riders and non-riders on Oct. 1, starting on the Prospector Trailhead near Babbitt.
The one-day event will feature a fun ride, games on the trail, games at the trailhead, and food. The trailhead is located on County Road 70, approximately ½ mile west of Babbitt. Funds raised during Angels on ATVs will provide financial assistance to NE Minnesota residents battling cancer.
Riders: jump on your ATV for a scenic ride, hopefully with gorgeous fall colors on display. Plan to hit the trail between 11:30 a.m. and 12:15 p.m.
Be sure to grab your scorecard before you head out, as you'll have the chance to test your skills at games along the trail. This scorecard is included with registration.
Registration is $35 below and day of. A meal ticket is included. REGISTER BELOW!
For those who prefer to keep their feet on the ground, games will also be conducted at the trailhead. Games here begin at 11 a.m. (so riders can participate too) and wrap up at 3:30 p.m. Scorecards are available for $15 per card.
Games throughout the day will include yard darts, frisbee throw, ladder ball, bocce ball roll, bean bag toss and more.
We encourage attendees to come in costume and decorate your ride. Prizes are given for each.
Food and beverage will be available at the trailhead from 11 a.m. to 5 p.m.
The day's schedule:
11 a.m. – noon: Registration
11:30 a.m.: Trail opens
3:45 p.m.: Deadline for scorecards
4 p.m.: Prizes awarded
The ride is on – rain or shine. No refunds will be given. Persons under 18 ride for free and must be accompanied by an adult.
Anticipate signing a waiver & release form at registration the day of the ride. Participants must also "understand and agree to follow the MN DNR rules and regulations for operating an off-highway vehicle on public trails (this includes any minors under my care for this event)."
Register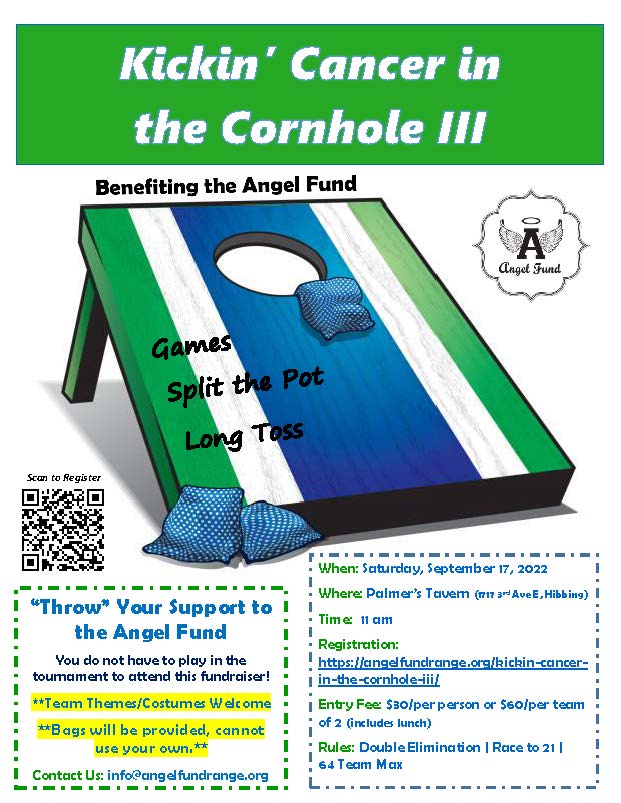 The third time's the charm, right?
Charm – plus skills – may be the key ingredients to taking home the purse of Kickin' Cancer in the Cornhole III.
The one-day fundraiser returns for its third year on Saturday, Sept. 17, at Palmer's Tavern in Hibbing.
Games of double elimination will begin at 11 a.m. Entry fee is $60 per team and includes lunch.
Register below by midnight Sept. 16. Same day registration on site (please arrive early). Up to 64 teams. No refunds.
Must play with bags provided at the event. Scoring is race to 21.
Payouts will be $500, $300 and $100. Fun team names, themes and costumes are encouraged.
All are invited to stop in for a beverage, a meal and raffles. You do not have to play in the competition to attend!
Games will include Split the Pot, Long Toss and raffle board, among others.
For questions, message us on Facebook or email info@angelfundrange.org.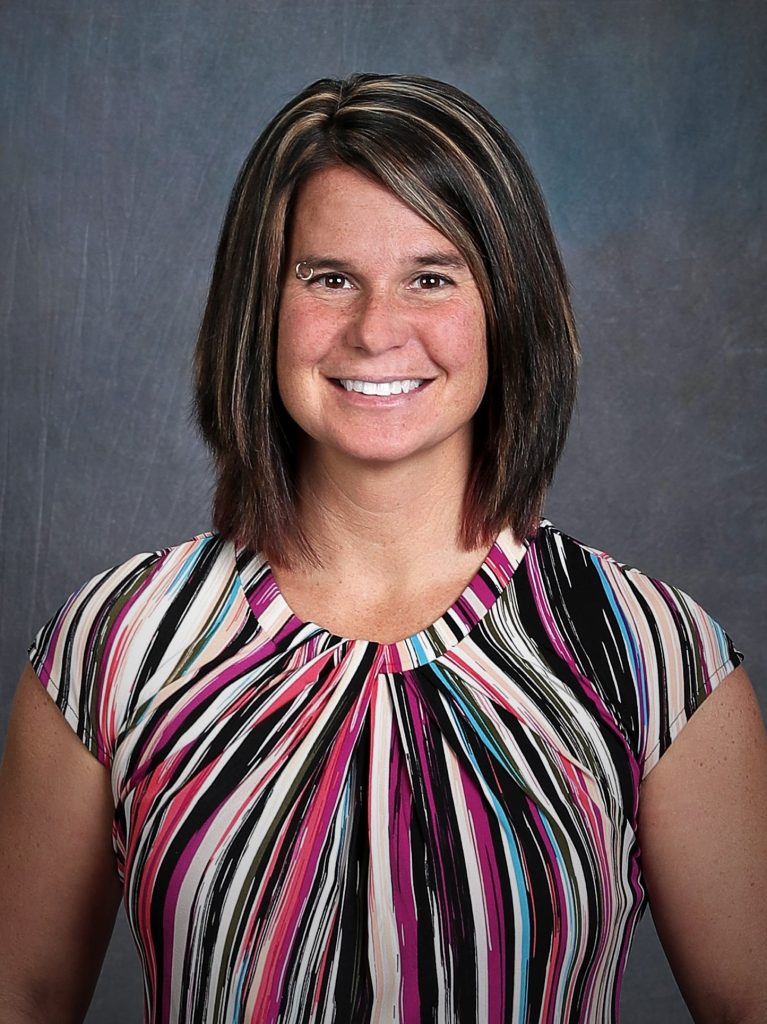 Angel Fund is excited to announce that Kelly Grinsteinner has been hired as its first executive director.
She is a founding board member, Board Past President and, most recently, was the board's inaugural Emeritus. She assumed the executive director duties on May 30.
"I am humbled by the board's trust in my skills, knowledge and experience," said Grinsteinner. "My drive and passion to fulfill Angel Fund's mission has grown stronger with each year, each event and each 'thank you' from the cancer patients we've supported. I very much look forward to working with the board to grow the fund's impact and increase our name recognition in Northeastern Minnesota."
As executive director, Grinsteinner will be responsible for assisting in the management of assets, providing leadership to board members, establishing organizational goals, advising the board on organizational activities, overseeing daily operations of the organization, grant writing, and assisting in promotion and planning of fundraising events. It is a part-time position.
"Kelly is self-driven, highly competent and a true leader, and we know she will excel in the position of executive director," said Board President Shannon Petroske. "With her strong leadership qualities, fundraising experience, and outstanding planning and organizational skills, we are confident Kelly will lead our nonprofit organization toward favorable growth while supporting our organizational operations."
Grinsteinner graduated from the College of St. Benedict with a bachelor's degree in Communications. She currently serves as the Communications & Advancement Director for Range Mental Health Center and was the last editor of the Hibbing Daily Tribune, where she worked for 20 years. She is graduate of several leadership programs including the Hibbing Chamber of Commerce Leadership, Blandin Publisher & Editors, Blandin Community Leadership and the Dale Carnegie Skills for Success. She has earned numerous leadership and writing awards and is active in the community through Hibbing Kiwanis Club and the Boys & Girls Club-Hibbing Initiative, among others.
In addition to Petroske, Angel Fund's Board of Directors is comprised of Vice President Meghan Tomassini, Treasurer Nicole Freeman, Secretary Kari Kilen and directors Amber Bretto, Katie Finch, Charlene Metzer, Morgan Seopa, Kelsey Unger, Stephanie Villella, Bobbi Jo VonAlman and Angela Zavodnik. The board recently welcomed Michelle Cramer, who was appointed to serve the remainder of a term vacated in July.