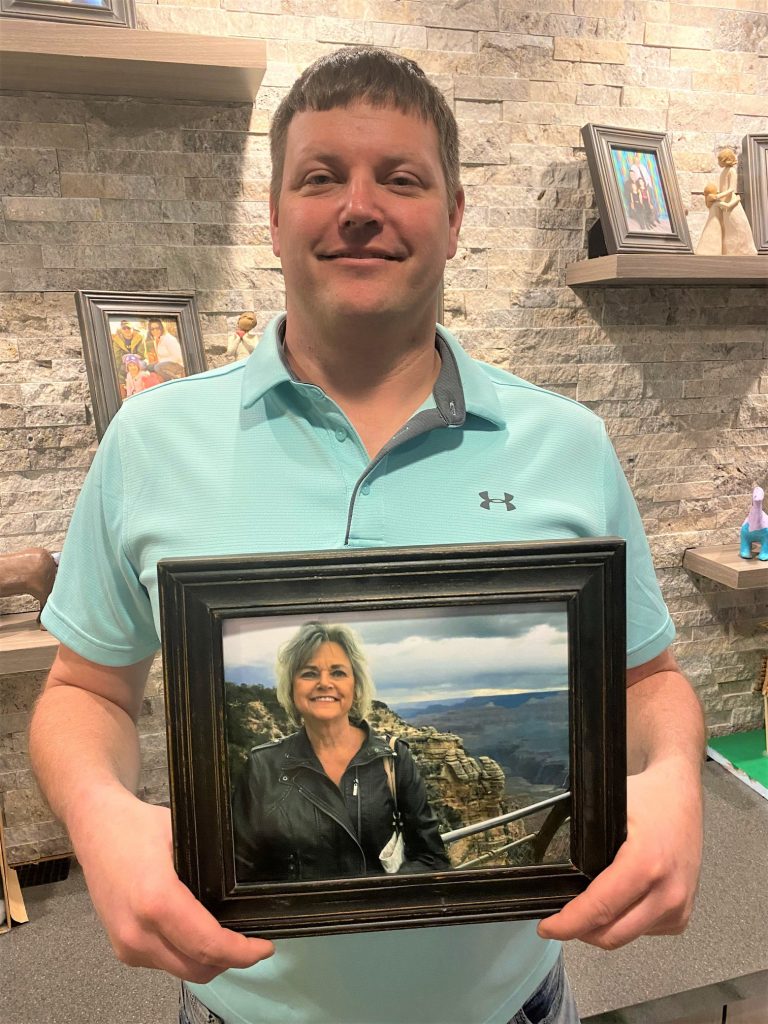 When Feb 27th rolls around each year, Andy Heisel's thoughts turn toward his mom, Roslyn "Roxy" Heisel. Specifically, he contemplates what to get her for her birthday.
But this year was bittersweet. Roxy succumbed to cancer on March 11, 2020. The 65-year-old Virginia resident was a bookkeeper for Northwoods Construction from 1991 until her passing. She had previously worked as a receptionist at the East Range Clinic. Roxy was active with the Virginia Elks Club Auxiliary and Holy Spirit Catholic Church. She and her husband enjoyed their summers on Crane Lake and traveling. Christmas was her favorite time of year and family traditions were very important to her.
She left behind a husband, two sons and daughters-in-law, and two granddaughters, among other relatives.
Andy was not looking forward to this Feb 27th, nor March 11th. With the dates less than two weeks apart, both days proved difficult. Yet Andy wanted to — needed to — do something for mom.
Then an angel intervened.
Andy, as owner of Northwoods Construction Inc., received a letter from the Angel Fund in mid-February. The letter was part of Angel Fund's Rock for an Angel sponsorship campaign, which took the place of the annual bonspiel fundraiser that was canceled due to COVID.
Angel Fund is an all-volunteer nonprofit that offers financial assistance to Northeastern Minnesota residents facing cancer for expenses not covered by insurance. Andy recognized the nonprofit's name as having provided financial assistance to Roxy during her battle with cancer.
"I am glad that the letter came across my desk at the time it did," said Andy. "My mother's birthday was on Feb. 27th, and normally I would be thinking of something to get her for her birthday."
The letter was his answer.
Andy and Northwoods Construction Inc. made a $1,000 donation to Angel Fund in Roxy's honor. It was his birthday present to mom — a legacy of a loved one gone too soon.
"It feels nice to feel like I was able to do something this year with a donation to the Angel Fund," said Andy.
Angel Fund President Kelly Grinsteinner said she became emotional when she learned of the donation. She was unaware of the connection and moved by Andy's story when he provided details.
"I got choked up when Andy shared his wishes and his love for his mom," said Grinsteinner. "His generosity is huge, and his heart is even bigger. We are humbled and honored to welcome Andy and Northwoods Construction Inc. into our family of donors."
Gifts like this are especially meaningful this year due to the ongoing pandemic, she added. It also gives Angel Fund board members a renewed sense of hope.
Andy noted that the Heisel family is grateful for the support provided by the Fund in the past and is happy to be paying it forward in the form of helping area cancer patients.
"Because of this support, the lives of several persons with cancer will be directly impacted in a positive way," said Grinsteinner. "Angel Fund would not be able to do its work without the incredible support of Andy and people like him."
Maybe – just maybe – the angel that intervened was Roxy.
"Happy birthday, Mom," said Andy. "You are loved, you are missed!" Rock for an Angel donations are still being accepted.
To donate, apply or learn more about Angel Fund: angelfundrange.org To reach Northwoods Construction Inc.: northwoodsconstructionmn.com.
This article also appeared in the April 9th edition of Hometown Focus: https://www.hometownfocus.us/articles/creating-moms-legacy/