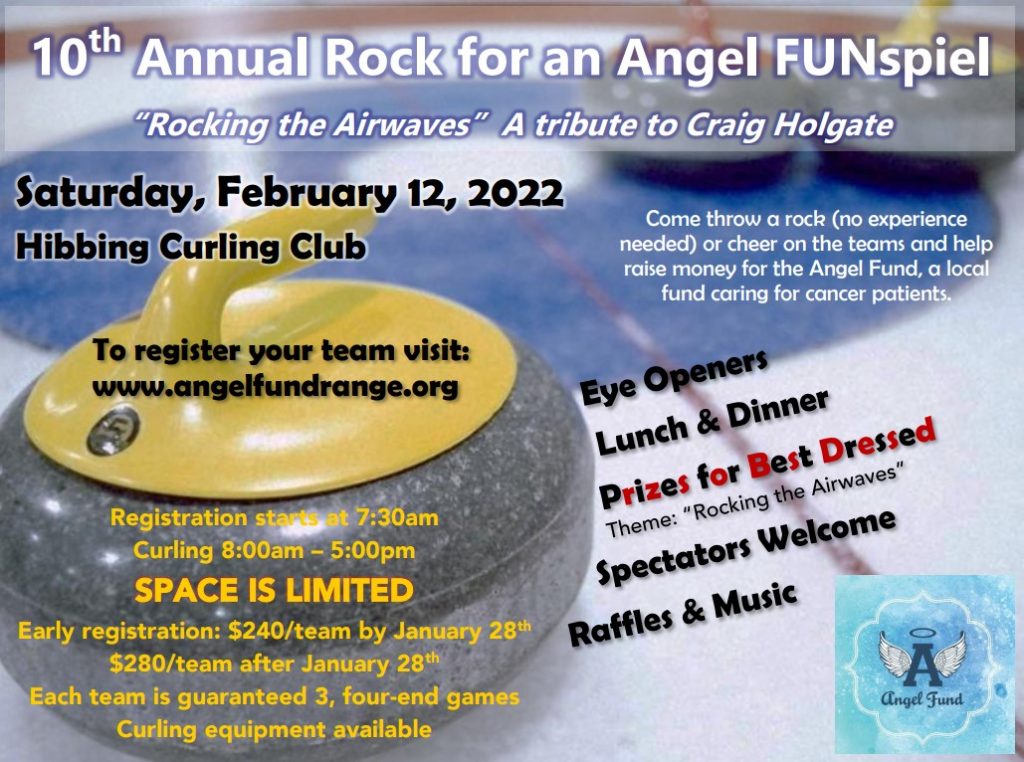 After a one-year hiatus due to COVID, Angel Fund's most successful fundraiser is back!
Rock for an Angel FUNspiel returns Feb. 12, 2022, for its 10th year!
Up to 32 teams will take to the sheets of the Hibbing Curling Club on Saturday, Feb. 12, 2022, for friendly competition, camaraderie and to raise funds for Northeastern Minnesota cancer patients.
Here are the details:
10th Annual Rock for an Angel Funspiel: "Rocking the Airwaves," a tribute to Craig Holgate
Event begins at 7:30 a.m. with registration and eye openers on Saturday, Feb. 12, at the Hibbing Curling Club. Play begins at 8 a.m. Up to 32 teams of 4 are guaranteed 3, four-end games throughout the day. All levels are welcome. Curling equipment is available.
Cost is $240 per team, if registered by Jan. 28. Price increases to $280 thereafter. Registration includes eye openers, lunch and dinner.
Prizes will be given for winners and the best dressed within the theme of "Rocking the Airwaves." Program will be conducted around 6 p.m. by co-hosts Jeff Shapiro and Tina Holgate.
SPECTATORS are welcome! Raffles, games and contests throughout the day. Music by KJ Entertainment into the night.
Register your team of 4 with team name below. For questions, message us on Facebook (facebook.com/angelfundrange) or email info@angelfundrange.org.
Registration is now closed.